About Birdwell Enterprises
Every Birdwell Dog Muzzle is Proudly Made by Hand in the United States
Birdwell Enterprises produces the most innovative muzzles you can buy. We updated the old-style kennel muzzles to make them more comfortable for your dog. Our new design strengthens our basket muzzle for dogs by putting a radius on the square corners and adding plastic where they were weak previously. Our muzzles also have a place on top to write your dog or kennel name.
We only use machine rivets much stronger than the hand rivets others use. Our rivets are placed smooth side inward to protect your dog's face. We built a mold for stool guards and are now producing them ourselves. We produce our own plastic-coated nylon webbing that we use to make all our basket muzzle products.
Making it ourselves allows us to keep a stock of the sizes and colors that we use and not have to rely on other companies.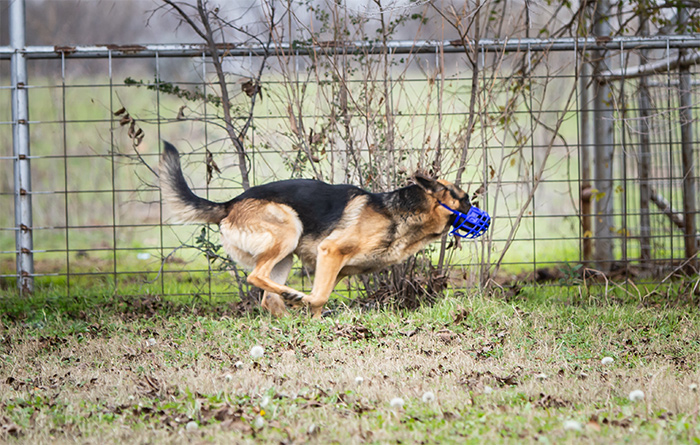 The Birdwell Dog Muzzle is Made in the USA
Every dog muzzle we sell is designed and made by hand in the United States. Each component that goes into our dog muzzles was either made in the United States or purchased from a company in the United States. We believe we give the best service in the industry and look forward to proving it to you. Our muzzles and stool guards are being sold in several other countries, including England, Ireland, and Australia.
Customer Reviews : Birdwell Dog Muzzle
It's a great muzzle, is bite-proof, has plenty of room to pant, and has nice colors. The muzzle is easy to put on and take off each time we use it.
Anti-Chicken Catching Dog Muzzle
Purchased this to help with a pup who loves to play with chickens. I want him to roam free. However, we still have work to do with not catching poultry. So this fits well; he can eat, drink, pant, and bark. It just prevents him from grabbing the livestock. All in all satisfied with this purchase.
The measurements were good, and it fits my Doberman well. I tried multiple muzzles for his long snoot, and this was far superior! He can eat and drink and breathe unrestricted. I feel like it provides a safe barrier for him and other dogs/people. He is a rescue and has a lot of fear to work out, and I didn't want to risk having to put him down if he bit someone because of his unknown past. He doesn't seem to mind wearing it for small extended periods (like an hour), and he has very sensitive skin! I highly recommend it!
Dog Muzzle for my Border collie
Bought a size large for a 45lb (but large-headed/long-nosed) border collie. Fits very comfortably, can drink through it well, and wear it on hikes without restricting panting at all. This muzzle is light and comfortable on the face in comparison to other muzzles. Most of all, it has prevented any potentially fatal (however warranted) corrections to the new chihuahua puppy.
Dog Muzzle: So far so good
Fits great, and it is exactly what I needed to help keep this one from eating poop in the yard. Just a couple of days into training, and this little one is already taking to it well.
Beautifully made dog muzzle
I love how well-made this muzzle is. It's super easy to clean and made for easy on and off. This is a FANTASTIC choice for play and other short-term wear. There is also a compatible stool guard available for rock and poop eaters. While I wish it offered padding on the inside of the nose, that is easily added. As is, it's easy to clean, affordable, and well-made product.
Our younger dog has attacked our older dog three times. My elderly father was injured trying to break up the last fight. This muzzle has kept our older dog safe and kept us from having to rehome our younger dog. This is the only muzzle she can't escape from. And there isn't an annoying strap between her eyes to slide around and get into her eyes. She figured out how to drink and eat with it on pretty quickly. She only wears it when the older dog is around her. Thank you so much for a muzzle that actually works and is sturdy enough for a big young dog who destroys things easily. We would definitely buy this muzzle again!
Buy Your Birdwell Dog Muzzle Today
We offer the Birdwell Dog Muzzle in a variety of colors and sizes to help you get the perfect fit and style for your dog. Our dog muzzles help prevent nipping and biting. You can also use your new dog muzzle in place of using those awkward cones after surgeries and open wounds.